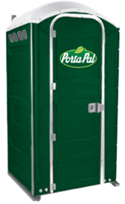 NEXT DAY DELIVERY AVAILABLE
PortaPal is a Calgary Porta Potty & Portable Toilet Rental business. We specialize in porta potties for construction sites, job sites, events and more. As a Calgary porta potty and portable toilet rental company we pride ourselves on providing the highest quality experience, support and level of sanitation to our customers and partners.
About Our Porta Potties and Portable Toilets
Portable toilets have been around since the 1960's and are often referred to as Port-A-Potties, Port-a-Johns or Porta Loos, they are simple portable enclosures containing a chemical toilet which are typically used as a temporary toilet for construction sites or large gatherings because of their durability and convenience.
The PortaPal toilets are manufactured by Poly John, one of the world's leading providers of quality portable toilets. They are constructed out of lightweight molded plastic. Interestingly, Poly John toilets were the first patented portable restroom. The patent was issued in the 1960s to George Harding, who was a co-founder of PolyJohn Corporation.
Request A Free Estimate
(403) 701-7637
Hours: 9am - 430pm (Mon-Fri)