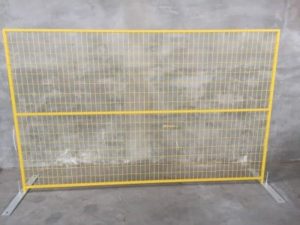 Our temporary safety fence panels will help you protect people and your job site, making it the right choice for builders and event planners in the Calgary Region. Local City of Calgary bylaws state that you must have safety fencing in place whenever you have an open excavation or an active work site where people could be in danger. Portapal can provide you with the rental fencing, delivery and set-up that you need for your next event or construction site.
Frequently Asked Questions
I need a porta potty rental. Now what?

If you are interested in a porta potty rental you've come to the right place. PortaPal has several portable toilet styles that are sure to fit your needs. Start by

contacting our service rep

for more information.

Can I use your units for my job site?

Yes! Our units are perfect for job sites, construction sites and oil rigs. They require limited space and can be easily relocated.

How many toilets will I need?

The simple answer is it depends. The amount of guests, the length of the event and if alcohol is being served all factor into the amount of units you will need. The best solution is to

contact our service rep

for more information.
Request A Free Estimate
(403) 701-7637
Hours: 9am - 430pm (Mon-Fri)